Follow in the Steps of Bruce Lee!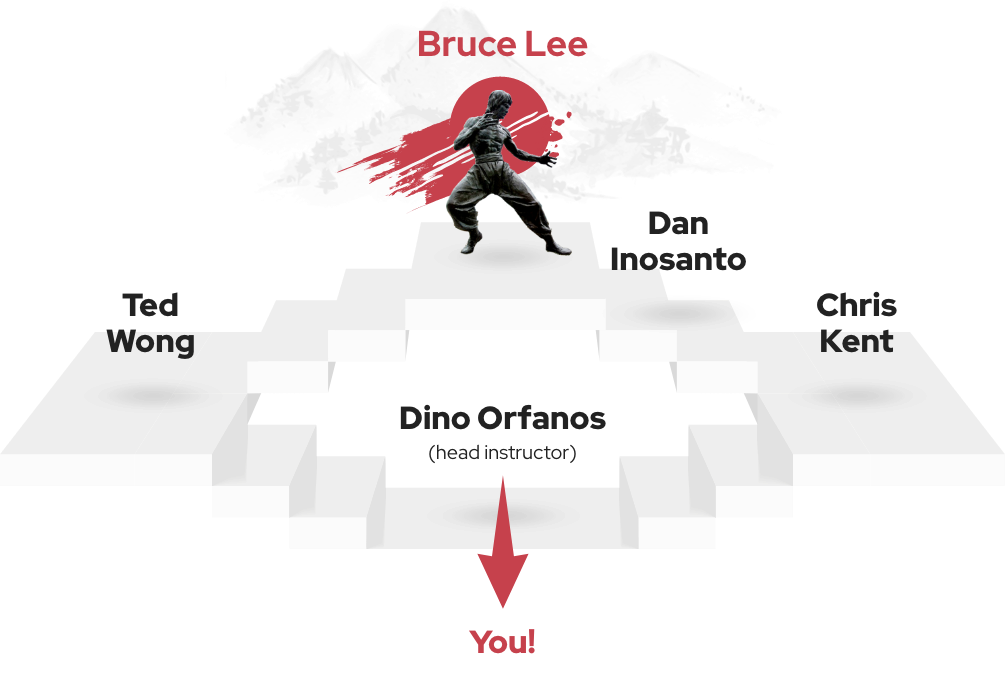 ---
The NY Martial Arts Academy team of recognized instructors
Dino Orfanos
Head Instructor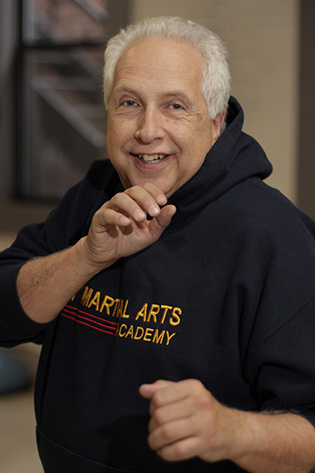 Dino Orfanos is the head instructor of NY Martial Arts Academy. Orfanos is a lifelong martial artist with over 40 years of training and more than 25 years as an instructor. Orfanos began his training in 1973 when he joined a Shotokan Karate school that was on the same route that he took to his high school. Heavily influenced by the discipline and philosophy that it imparted into his life, Orfanos took up other arts such as R. Gracie Jiu Jitsu, Kali, Pencak Silat, where he eventually became a full instructor. Orfanos originally discovered Jeet Kune Do as JKD concepts from training at various schools. The non-style of JKD and the focus on expressing the art as an individual is what he became most attracted to. As Orfanos became more invested in the art, he traveled to various seminars taught by Chris Kent. He built a relationship with Kent based on his hard work and dedication to the art. He also trained under the likes of Ted Wong and similarly built a relationship based on his unrelenting focus and passion towards JKD.
Orfanos became a certified instructor under both Chris Kent and Ted Wong and in 1985 opened up the first school in Little Neck, followed by Glen Cove, Brooklyn, and Astoria. Because of the way that Jeet Kune Do has positively affected and changed his life, he hopes to continue to spread the art to as many students as possible.
---
James Orfanos
Director of Operations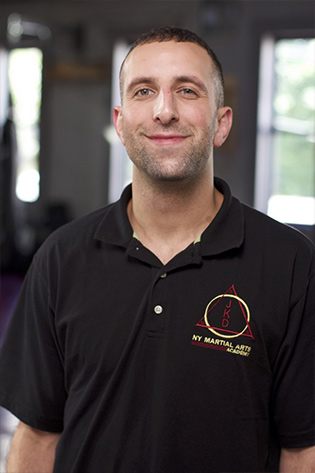 James Orfanos started his martial arts training when he was four years old. Over the course of his training he gained experience in Muay Thai, boxing, grappling, Brazilian Jiu Jitsu, Judo and kali. Being exposed to the hard work that comes with training from a young age, Orfanos loved the experience of hitting pads and being competitive in sparring. More so, he liked the comradery he felt amongst the students along with the idea that how hard he and his peers trained exposed their true characters. Growing up as the son of the school's head instructor, Orfanos had the opportunity to train with Chris Kent and Ted Wong and has always been appreciative of having JKD implemented into his life and learning from the best instructors in the art. Despite having training in other arts, Orfanos believes that JKD is the best because it is based on physics and it is an art that is street applicable where there are no rules.
Orfanos enjoys the feeling he gets from being in an environment that he loves and helping students to get better in JKD. The experience of watching students learn techniques and ideas for the first time lets him relive the happiness he felt when he was first learning. Ultimately Orfanos would like to open more schools to continue spreading JKD and find good people to teach for as long as he can so that the art can change their lives.
---
Carlos Irizarry
Director of Brooklyn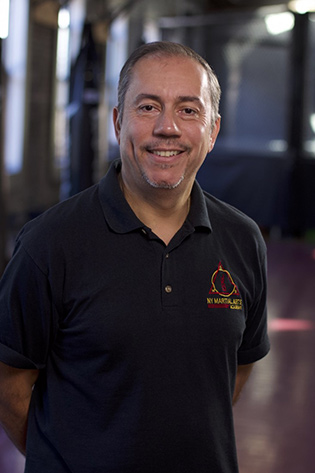 Carlos Irizarry has been teaching at NYMAA since 2008. He began his martial arts training in Shotokan Karate when he was 11-years old after becoming inspired by Bruce Lee's films. After almost eight years in Karate, Irizarry took a break from his martial arts training. When he made the decision to continue his journey, Irizarry recalled his original inspiration, Bruce Lee, and learned more about the art which Lee founded. Irizarry was attracted to the individuality of JKD along with the practicality of learning tools that could be used in real life without limitations of rules or a set style that sometimes comes with other martial arts. Through research, he discovered NY Martial Arts Academy. He was particularly impressed that the head instructor, Dino Orfanos, taught the majority of the classes. After seven years of dedicated training, Irizarry began assisting in classes and eventually teaching.
As an instructor, he feels inspired by helping students learn as well as the experience of watching how JKD affects his students, not only in their training but in their personal lives. Irizarry expects to continue spreading the art and helping his students in the same way that was once done for him when he first started training.
---
Alfonso Velazquez
Instructor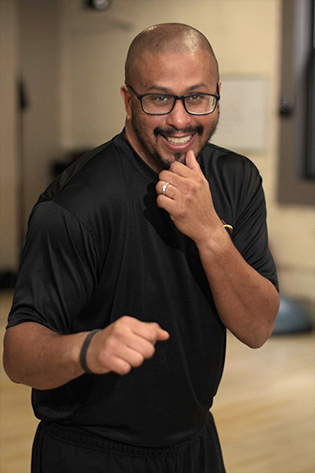 Alfonso Velazquez has been an instructor since 2006. He is a lifelong martial artist who began his training at the age of five. As a child he was a big fan of Bruce Lee and he began taking up martial arts starting with Kar Do Jitsu Ryu. From then he took up Tae Kwon Do, and Shotokan Karate, before discovering Jeet Kune Do. When he discovered NYMAA in 2006, Velazquez desired an art that suited his personal style and the way he moved, along with an art that was more street oriented. He enjoyed the comradery of the students and had a great amount of respect for his instructors who he felt truly lived the art that they taught. After training consistently for six years, his dedication toward JKD did not go unnoticed. Velazquez began doing introductions for potential students and gradually began teaching his own classes.
He enjoys being able to convey what JKD is about to his students and helping them to get better in their training. Ultimately, he would like to establish himself as a known martial artist and one day open his own school so that he can continue to spread the art to more people.
---
Andre Mistier
Instructor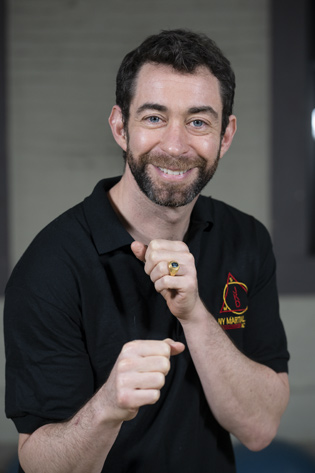 Andre Mistier has been an instructor at NYMAA since 2011. Prior to discovering Jeet Kune Do, Mistier studied Tae Kwon Do for three years and Seido Karate for two years, along with boxing, Thai boxing, and Jiu Jitsu. In 2002, Mistier, a musician, was introduced to JKD from a fellow musician. After watching Bruce Lee's interviews from the 25th anniversary edition of Enter the Dragon, Mistier was moved by the way Lee spoke about the art in the same way that he felt about his music. From then, he was determined to discover more about the art by joining NYMAA in 2002. His years of training and studying JKD have helped him to become more aware and self-analytical. In particular, the physical and spiritual aspects of the art helped him to progress on the training floor and in his personal life. These changes in his life inspired him to become an instructor to help more people to learn about JKD.
He believes teaching JKD is a calling for him and he is constantly inspired by the changes that the art instills into the lives of his students. Mistier tries to prioritize the process and approach that JKD offers. As his students gain a better understanding of the art, he feels they can strive toward the personal expression that is part of JKD and ultimately, use it in their training and in their lives.
---
Eric Scott
Instructor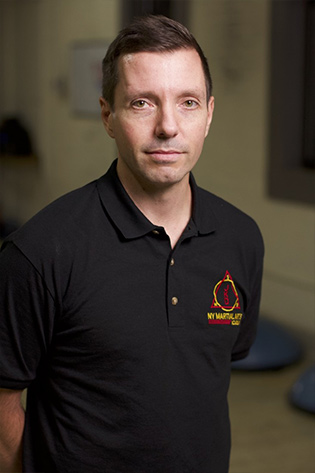 Eric Scott is an instructor who started teaching at NYMAA in 2017. Scott first started training in 2012 after finding the Brooklyn location when he moved back to New York after living overseas for work. Scott had previously read "The Tao of Jeet Kune Do" by Bruce Lee, and at the time of finding the school, was reading heavily about Jiddu Krishnamurti, whom he discovered was a big influence for Lee. For Scott, the philosophy of the art had a profound effect on him, inspiring him to join the school to learn more about JKD and how it could change his life. He was able to learn more about himself, gaining more discipline and self-confidence not only on the training floor, but in his personal life. Scott felt inspired to become an instructor because of his great admiration and respect for the instructors who taught him. As an instructor, Scott makes it a point to emphasize the simplicity of the art which is only achieved through paying attention to the small details of the technical and philosophical traits of JKD.
---
Adam Muhsen
Instructor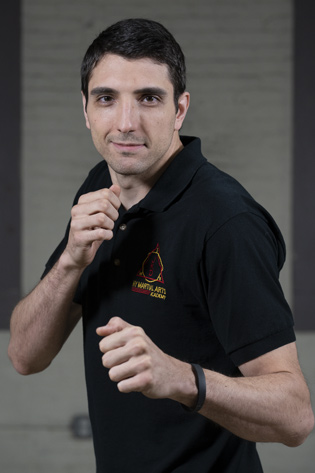 Adam Muhsen began his training at NYMAA in 2008 after pursuing a personal goal he always had of taking up a martial art. Inspired by Bruce Lee and his extraordinary martial arts ability, he decided JKD would be the best art for him to take up. For Muhsen, the art has positively affected his life in such a profound way that he accepted the privilege to become an instructor in 2012 soon after the school's Brooklyn location was opened. After years of dedication to his training and conveying the art to students, Muhsen was certified as an instructor by Chris Kent in 2016. As an instructor, Muhsen likes to focus on showing students the smaller details of each movement as well as the importance of utilizing the philosophy in everyday life in order to constantly improve one's thoughts and become a better person.
---
Temerario Luna
Instructor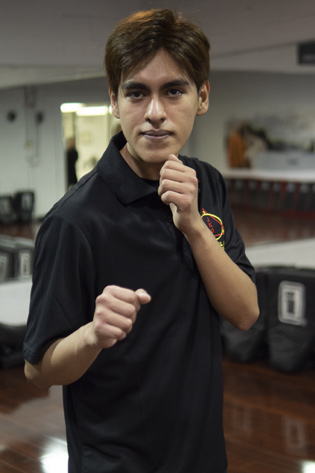 Temerario Luna joined NYMAA in late 2013. At the time, Luna was originally inspired to begin martial arts training after watching a Hong Kong-based biographical series on a Wing Chun master called Ip Man. The series initially gave Luna the idea to find a Wing Chun school, but in his search, he came upon NYMAA instead, which he felt was a much better fit for him. As Luna immersed himself in all that JKD has to offer, he began assisting in the school's kids' classes in 2015 and eventually began leading his own classes. The opportunity to convey JKD to the school's youngest students gave Luna a great sense of pride to watch the progression not only in learning, but as the children become more confident and outgoing as they continue in their training.
---
Teddy Holevas
Instructor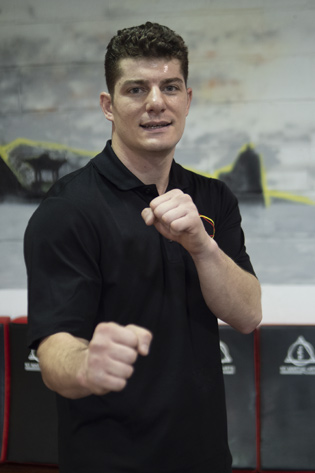 Teddy Holevas has been teaching at NYMAA since 2018. He is a lifelong martial artist who has training in Taekwondo, Muay Thai, boxing, wrestling, and Brazilian Jiu Jitsu. After years of training in various arts and fighting competitively, Holevas joined NYMAA as he was particularly impressed with the way the school's instructors were conveying the art as well as the positive environment, and the students' eagerness to learn. His experience as a competitive fighter made JKD appeal to him because of the simplicity and philosophy of adaptability to one's opponent which is essential during combat whether it is in a competition or for actual self-defense. As an instructor, being able to help with a student's growth as a martial artist and an individual is something that he finds very fulfilling and inspiring.