Leading Childrens Fitness Training Program in Flushing NY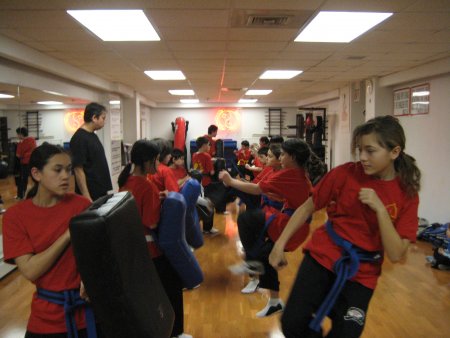 NY Martial Arts Academy is one of Flushing NY's highest rated martial arts schools and leading source for children's karate classes. In 1985 NY Martial Arts Academy was the first school in the tri-state area to teach Jeet Kune Do. Since that time, there have been over 10,500 students trained at our academy. Through the years we have maintained our high standards through small group lessons, personalized attention, and constant interaction with our students.
At NY Martial Arts Academy, we are looking to develop the champions of tomorrow. We are able to achieve this by teaching our children vital skills that will make them fit, confident, and focused. Your children will receive many benefits of martial arts training which includes self-defense, physical fitness, and most importantly, peace of mind. Our instructions have a collective 365 years of martial arts experience and are willing to share their knowledge with you!
Bruce Lee's Jeet Kune Do
Providing a Superior Method of Self Defense, Physical Fitness and Peace of Mind
Over three decades before the advent of "Mixed Martial Arts", a revolutionary martial art training process was developed by the legendary Bruce Lee. This art advanced the principles of "totality" in martial art training with "realistic" scientific training methods and "complete freedom" for the individual practitioner. Lee named the cutting edge martial art training process he developed "Jeet Kune Do." This training process forms the foundation of what we teach at NY Martial Arts Academy.
Martial Arts Training for Children in Flushing NY
At NY Martial Arts Academy, we can help your child cultivate his or her true potential by teaching them:
Self-Discipline: The ability to do things without being told.
Inner Strength: The ability to trust themselves and say NO to peer pressure and drugs.
Mental Focus: The ability to perform well in school.
Self Confidence: The ability to feel good about themselves and & their potential.
How Martial Arts Can Improve Your Child's Life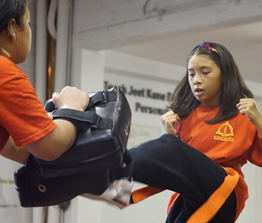 Increase Your Child's Focus
Almost every day for the past 29 years parents have called us to help their children become more focused. Children have so many distractions these days (much more than when you were a child). Ipads and video games tend to be two common distractions for kids that not only hinder their performance in school, but also limit interaction with other children. Years ago kids used to play outside and stay active. Today, the digital world seems to be killing kids ability to interact in a social setting. We are here to help!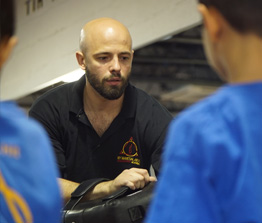 Increase Your Child's Discipline
Parents, NY Martial Arts Academy Academy will partner with you in making your child more disciplined. Discipline is essential to success in school and ultimately in life. We have various protocols for increasing your child's discipline and the first step is defining discipline in a way children understand. Your child is like clay and your child's role models are very important in each stage of development. Our age specific programs allow your child to thrive and look up to instructors who were model students and are extremely successful in multiple aspects of their lives. Children with discipline do well in school and don't have a problem doing their chores at home as well.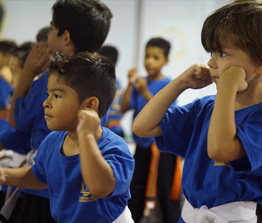 Bully Prevention
Bullying is one of the worst things that can happen to a child because of the long term psychological effects. There has been an increase in bullying over the last decade because many children are lacking confidence. Bullies prey on children they perceive to be weak and unconfident. Confidence is the best defense against bullies. We teach non-violent approaches to deal with bullies but will also teach your child the self defense skills needed if he or she is ever attacked. Violence is always the last resort.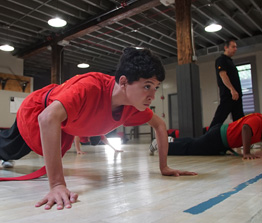 Fitness For Children
Children at NY Martial Arts Academy are fit, confident, and focused. Fitness for children differs from fitness for adults. We push our students enough where results are not only achieved, but sustainable. We will get to know and understand the specific fitness needs of your child and guide him or her through the program. You will see an increase in your child's strength, flexibility, and endurance within two months! Martial arts is also great cross training for other sports because of the fitness benefits involved.
Learn why our students and their parents love our classes!
My son loves practicing martial arts at NY Martial Arts Academy, Broadway location. Sifu Jon is great with the kids. He makes things fun while also reinforcing discipline. My son has been gradually gaining focus and we are happy with the progress that he continues to make. All staff members are very friendly as well. I highly recommend NY Martial Arts Academy. - Kariny Espinal
Skills That Last a Lifetime:
Fill out our contact form for more information about our programs and to see if this is right for your family. If it is, great! If it is not, we will be happy to point you in the right direction. We will even suggest another activity or martial arts school if we cannot fulfill your needs. You have nothing to lose, and this experience might change your child's life forever!