Manhattan NY's Premier Self Defense Training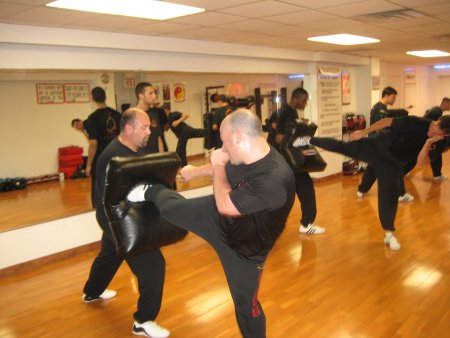 NY Martial Arts Academy offers group martial arts and self-defense classes for adults and one-on-one training the in Manhattan NY area. At NY Martial Arts Academy, is our specialty is Jeet Kune Do. Jeet Kune Do (also known as Jun Fan Jeet Kune Do), founded by world-renown martial artist Bruce Lee, is an aggregate of principles for developing the mind and body. NY Martial Arts Academy provides a total martial arts experience by teaching you the different aspects of Jeet Kune Do, which encompass the mind, body and soul. Our classes will not only help you get in shape, lose weight, and learn self-defense, but you will also learn the philosophical elements of becoming a better person.
In 1985 NY Martial Arts Academy was the first school in the tri-state area to teach Jeet Kune Do. Since that time, there have been over 10,500 students trained at our academy. Through the years we have maintained our high standards through small group lessons, personalized attention, and constant interaction with our students. We believe in the total martial arts experience of mind, body and spirit. Let us help you cultivate your true potential through self defense, physical fitness and providing you with peace of mind!
Fitness is an important part of the program.
We promote strength, flexibility, and endurance training in every class. Also, the program is tailored to fit each student's needs and capabilities. We have students who enroll at all skill and fitness levels. Our academy has been in existence for almost 30 years and since that time, we have seen it all. Some students have entered overweight and lost as much as 80 pounds. Others have walked in unsure about themselves and in a few months have become confident individuals.
Manhattan NY's Leader in Self Defense Training & Jeet Kune Do Training - Benefits of Our Classes
NY Martial Arts Academy provides a total martial arts experience. You will also develop friendships and a common respect for your fellow martial artists. Our classes offered in Jeet Kune Do, kickboxing and grappling provide the following benefits:
Self Defense
The confidence of being able to protect oneself and/or a loved one should a situation arise where walking away is not an option. The foremost importance of the study of martial arts is to protect oneself and not to hurt others.
Physical Fitness
Being physically fit gives a person energy and confidence to handle daily endeavors, activities, as well as combative situations. The student achieves physical fitness by various strength and conditioning exercises done during the class. Being physically fit is a crucial component of being "of sound mind".
Peace of mind
With a strong body and strong mind, there is a complete individual. Training at NY Martial Arts Academy gives the student the capability of achieving high mental focus. This high level of mental focus is reached through a variety of training drills designed to sharpen mental ability and focus.
Learn Different Skills From Our Variety of Classes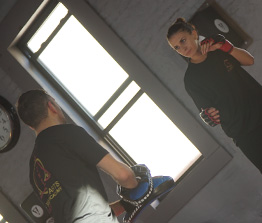 Prospective students are looking for the confidence that martial arts provides. Part of that confidence derives from the ability to defend yourself and loved ones.
We have a variety of martial arts classes which will teach you the various aspects of combat and the philosophical elements of becoming a better person. Ultimately, martial arts is more about improving your life than learning technique.
The technical aspect of the classes includes elements from Muay Thai, boxing, Jiu Jjitsu, and kickboxing. Elbows and knees are prevalent in Muay Thai but are also a part of Jeet Kune Do. Bruce Lee studied boxing and fencing when developing his art. We borrow certain elements from Jiu Jitsu when addressing self defense situations on the ground. Our Self Defense Training academy offers unlimited JKD classes in Manhattan NY six days a week with specialty classes at no extra cost. This is also an academy that will teach you the different aspects of Jeet Kune Do (mind, body and spirit).
Private One-On-One Lessons
Personal attention from the instructor means accelerated learning for most students. Private lessons are great for serious students who are looking to progress as quickly as possible. Benefits of one-on-one training includes:
Great for anyone with a very busy schedule that wants the flexibly to train during hours where group classes are offered.
Ideal for anyone who prefers not to perform in front of others.
Offers the ability to ask a lot of questions. Asking questions is encouraged in group classes but during one on ones you have the entire hour with the instructor to yourself.
Ability to work on specific techniques that the student may be struggling with.
Gives the instructor the ability to hone in and work on your weaknesses.
Hear what our students have to say!
Before becoming a student and NY Martial Arts Academy, I researched and visited several different schools. I choose NYMAA becuase when I first came, Sifu Dino and the students very genuinely welcomed me as a guest in their school. Sifu Dino and the senior instructors are good instructors. They care about what I am doing and how well I perform while helping me to become better. I choose to continue training here because I feel comfortable and at home in this school. - CPA and Student of NY Martial Arts Academy
NY Martial Arts Academy is a great place to train. Classes have a cooperative, rather than competitive, atmosphere; my classmates help me learn and achieve. Sifu Dino has a friendly and relaxed (but no-nonsense) teaching style. He is always eager to share his encylopedic knowledge of Bruce Lee's art with his students. - Dentist and Student of NY Martial Arts Academy
---
If you are interested in learning more about our programs and begin your journey, fill out our contact form or call us at (347) 721-3288 . We will be happy to assist you in determining if this is a good fit. If it is not a good fit, we will do our best to point you in the right direction. You have nothing to lose and our proven systems may just change your life!