Originally posted on 05/29/2020
It is widely accepted by fighters and other people around the world that Bruce Lee was the most influential martial artist of all time. From his famous action movies to his unique martial art of Jeet Kune Do, the legend of Bruce Lee has held strong.
And while many may think Bruce Lee was little more than a Hollywood actor, his greatest achievements extended far beyond the big screen. He was also a wise philosopher saying many things regarding the sport of martial arts that people still recognize today.
Although he is seen as the most influential martial artist in history, one question remains that some try to argue regarding his abilities and skills in a real fighting situation:
Is Bruce Lee the greatest martial artist of all time?
You'll quickly find more than just one or two people who think so.
Fighters Learned to Adapt by Watching Bruce Lee
Among his most famous quotes, Bruce Lee once said -
"Empty your mind, be formless, shapeless — like water. Now you put water into a cup, it becomes the cup. You put water into a bottle, it becomes the bottle. You put it in a teapot, it becomes the teapot. Now water can flow or it can crash. Be water, my friend."
Lee followed this mindset of adapting to surroundings throughout his entire life and has since impacted millions who try to follow his example.
UFC President Dana White once said that Bruce Lee was "the father of mixed martial arts." He also referenced that if you ask any fighter out there who their inspiration was for joining the sport, pretty much everyone will list Bruce Lee among their idols.
Former UFC Lightweight Champion Anthony Pettis agreed saying he's the reason why most guys become a part of martial arts.
Over the years, Bruce Lee learned many styles of fighting such as boxing, fencing, and the art of Wing Chun, which he studied under the direction of Ip Man. He incorporated these and other forms into his own martial art that he called Jeet Kune Do (JKD), which directly translates to "the way of the intercepting fist" in Cantonese.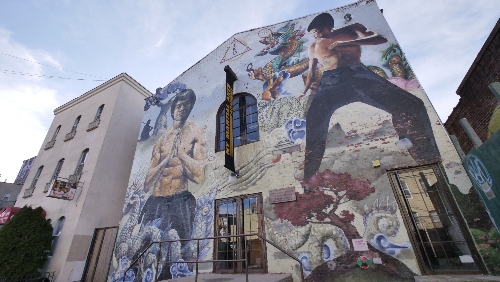 Even Randy Couture, a UFC Champion, said a huge part of his wrestling techniques came from Jeet Kune Do.
The concept of JKD was that no one style of martial arts had all the answers. Similar to his quote about water, the point was to always be adapting your fighting to the situations around you.
Former UFC Champion Anderson Silva said he changed many of his fighting techniques to make them "similar to Bruce Lee". This mindset and his own training helped Silva remain champion for 2,457 days, the longest title reign in UFC history.
In an interview, boxing Hall of Famer Mike Tyson once talked about a key aspect of Bruce Lee's fighting style being the increased ability to avoid taking hits. A major part of Jeet Kune Do is to "do as much damage as you can and then get out."
Shannon Lee, Bruce Lee's daughter, has previously talked about how he was determined to be the greatest at everything he did. He was always trying to find the best and most efficient way to do martial arts and express himself. She said he was always asking himself questions like:
"What is the best type of footwork?"
"What is the best way to bridge the gap?"
"What is the best way to effectively strike?"
He would then adjust his style to fit the answer to each of these questions.
Bruce Lee Called the Greatest of All Time by World Champions & Beyond
Pro Boxer Manny Pacquiao says Bruce Lee is his idol, saying he tries to copy his hair and other looks. But more than that, Pacquiao also said he changed many of his fighting techniques into Lee's style because he felt it would help him become a champion. Which he did — 12 times.
The actor and mixed martial artist Chuck Norris famously fought Bruce Lee on the big screen in their movie The Way of the Dragon. In the audio commentary on the DVD, Jon Benn who played the movie's mob boss asked Norris who would win in a real-life fight. Norris responded almost immediately saying, "Bruce of course. Nobody can beat him."
This opinion by Chuck Norris has been shared by hundreds of professional fighters both before and after.
In an interview with UFC Champion Connor McGregor, he once said he had no doubt that Bruce Lee would have been World Champion in MMA if he'd had the chance.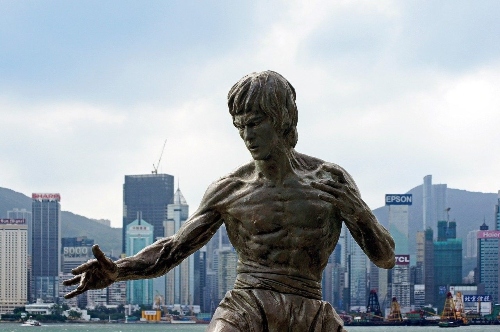 Some naysayers argue comments like these, claiming Lee only ever fought in movies, which were fake depictions of these battles. But Joe Rogan joined the ranks of people who say Bruce Lee is the greatest martial artist of all time, even when it comes to recognizing the moves he used in these movie scenes.
Mentioning things like his oblique kicks and his counters to block incoming attacks, Rogan once referenced on his talk show how Bruce Lee's style was more realistic than any moves you see in martial arts movies today.
Bruce Lee is the Greatest and His Martial Arts Traditions Continue
Bruce Lee continues to be seen by the masses as the greatest martial artist of all time. He was referred to by Dana White as a "worldwide fighting icon" not only because of martial arts but because of his philosophies, movies, teaching ability, and more.
It's easy to agree with boxing Hall of Famer Sugar Ray Leonard who said, "In the dictionary, you say 'Greatest', you say 'Bruce Lee'. That's the way it is. He is second to no one."
Here at NY Martial Arts Academy, we train in the Jeet Kune Do style of Bruce Lee. His inspiration guides our instruction and our classes. Consider taking a class for you in our adult classes or your children in our youth program. Give our team a call to find the best location and class.
Learn more about Jeet Kune Do here!