Boxing Classes for Self-Defense in NYC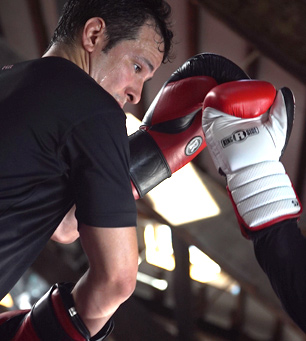 Boxing Training within Jeet Kune Do
If you like the idea of taking boxing classes but feel like you'd prefer to use more of your body than your fists, we have the answer for you in the form of Jeet Kune Do.
NY Martial Arts Academy offers a unique type of boxing classes related to Bruce Lee's original martial art of Jeet Kune Do. This special fighting style integrates multiple elements of boxing techniques and even boxing drills.
During some of our classes, we put on gear like boxing gloves and other boxing equipment to practice these techniques on punching bags, pads, and dummies.
As Bruce Lee developed this unique martial art, he went through rigorous boxing training as a means of learning the best and most effective punches. His studies allowed him to merge aspects of the popular fighting style including stances, crosses, jabs, uppercuts, hooks, and more.
When you take Jeet Kune Do classes, the focus on boxing techniques will refine your head movement, blocking abilities, strikes, and even your footwork. You'll also get a glimpse into both the attacking and defensive skills of the martial art to improve your overall versatility.
---
Benefits of JKD Boxing Classes
Looking for boxing classes near you? Whether you're interested in group classes or doing one-on-one training, the boxing techniques in Jeet Kune Do have numerous advantages to improving your skills as a martial artist.
Boxing is so much more than a couple of guys or girls simply throwing punches at random. And the rewards that stem from learning these effective tactics will impact every other step of your time in our JKD boxing classes.
Striking
One of the most essential aspects of Jeet Kune Do is striking, which is why boxing training plays such a major role in our classes. You'll learn which punches to throw and at what times they will be most effective in a fight. From quick jabs to power punches, one strike could be the difference in your ability to keep yourself safe.
Self-defense
People have been using boxing for self-defense since the first time a person threw a punch at someone else. But as time has progressed, systems and key methods have evolved this form of self-defense into what it is today. Many elements of our JKD boxing classes help students defend themselves in difficult or dangerous situations.
Great Exercise
With the number of movements and strikes thrown during boxing workouts, students burn hundreds of calories in an hour. Forget about your generic cardio machines and weights. Our JKD boxing training will get you into the best shape of your life without lifting a dumbbell.
Learn Aspects of Boxing in Jeet Kune Do Classes
Are these boxing classes near me? We have four locations to choose from:
If you've been thinking about signing up for boxing classes in NYC, the training offered here at NYMAA is a great alternative. Depending on your fitness and training goals, learning Jeet Kune Do could open more doors than placing a singular emphasis on the fighting style of boxing.
Want to learn more about the boxing techniques taught in our lessons? Give us a call today at (347) 721-3288 or fill out the contact form on this page!