Kickboxing Classes in New York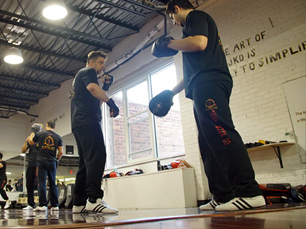 What is Kickboxing?
Even though it has been heavily adapted by many countries and independent martial artists as time has passed, kickboxing techniques have been around for thousands of years. This form of combat encompasses a wide variety of kicks and punches designed to be used both on offense and defense. Pieces of the fighting style have been pulled from others like karate, Muay Thai, boxing, Jeet Kune Do, and many more.
Martial artists who take kickboxing classes learn a handful of strikes with both their upper and lower bodies including:
Jabs
Crosses
Hooks
Uppercuts
Elbows
Front kicks
Roundhouse kicks
Side kicks
Knees
Many more
---
Benefits of Our Kickboxing Classes
Following a similar trend to the other types of mixed martial arts that are part of Jeet Kune Do (JKD), kickboxing techniques make a steady appearance. Created by Bruce Lee over years of study, JKD is one of the most effective fighting styles in the world. Our kickboxing classes in NYC offer a range of advantages to each person who comes to NY Martial Arts Academy for their training.
Burn Calories
One of the most common kickboxing benefits that bring people to our school is the chance to get in shape. A large number of our current students left their gym memberships behind looking for a chance to mix their exercise routine in a fun, engaging environment. Drop the heavy weights and hop on our training floor for a new way to sweat.
Mental Health Benefits
While the physical perks of a kickboxing workout may be a bit more obvious, our instructors also pay close attention to the mental and emotional needs of our students. Each of our kickboxing lessons focuses on reducing stress, boosting confidence, and even promoting socialization. The atmosphere around our JKD kickboxing classes is disciplined but also offers a laid back space where people can make new friends.
Defend Yourself
Unfortunately, situations arise when people are intimidated, bullied, or even attacked during their life. Our adult kickboxing classes are designed to help you get in shape while also giving you tools necessary to stand up for yourself if you're ever put in a tough situation. Learn elements of how to kickbox and gain self-defense skills as you proceed through our Jeet Kune Do lessons.
Begin Your Kickboxing Training
Are these kickboxing classes near me? Take a look at any of our four locations:
If you've been scouring the web for kickboxing schools, look no further than NY Martial Arts Academy. Our JKD classes are not what you'd expect to find at a typical kickboxing gym. Not only will you learn picture-perfect kickboxing techniques, but you'll also get in great shape while gaining real-world self-defense skills.
Get more information about our kickboxing classes in NYC by giving us a call today at (347) 721-3288! Or you can also fill out the form on this page to get additional details sent to your email.