Jeet Kune Do Martial Art Classes for Adults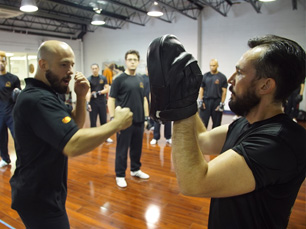 Providing a Superior Method of Self Defense, Physical Fitness, and Peace of Mind
Over three decades before the advent of "Mixed Martial Arts," a revolutionary Martial Art training process was developed by the legendary Bruce Lee.
---
Our Martial Arts Roots Run Deep
NY Martial Arts Academy was established in 1985. Over the years, we have taught over 10,000 students and we are one of the most respected schools in New York. We teach Bruce Lee's martial art, known as Jeet Kune Do. Through the years we have maintained our high standards through small group lessons, personalized attention and constant interaction with our students. Martial arts is our passion and we love teaching students who are willing to learn.
Bruce Lee's Jeet Kune Do
Providing a Superior Method of Self Defense, Physical Fitness and Peace of Mind
Over three decades before the advent of "Mixed Martial Arts", a revolutionary martial art training process was developed by the legendary Bruce Lee. This art advanced the principles of "totality" in martial art training with "realistic" scientific training methods and "complete freedom" for the individual practitioner. Lee named the cutting edge martial art training process he developed "Jeet Kune Do." This training process forms the foundation of what we teach at NY Martial Arts Academy.
---
Many People Enroll In Our School To Learn Self Defense
Prospective students are looking for the confidence that martial arts provides. Part of that confidence derives from the ability to defend yourself and loved ones.
We have a variety of martial arts classes which will teach you the various aspects of combat and the philosophical elements of becoming a better person. Ultimately, martial arts is more about improving your life than learning technique.
The technical aspect of the classes includes elements from Muay Thai, boxing, Jiu Jjitsu, and kickboxing. Elbows and knees are prevalent in Muay Thai but are also a part of Jeet Kune Do. Bruce Lee studied boxing and fencing when developing his art. We borrow certain elements from Jiu Jitsu when addressing self defense situations on the ground.
---
Fitness Is An important Component Of The Program
We promote strength, flexibility, and endurance training in every class. Also, the program is tailored to fit each student's needs and capabilities. We have students who enroll at all skill and fitness levels. Our academy has been in existence for almost 30 years and since that time, we have seen it all. Some students have entered overweight and lost as much as 80 pounds. Others have walked in unsure about themselves and in a few months have become confident individuals.
---
If You Are Bored Of The Gym You Are in Luck!
Martial arts is a great alternative because the classes are fun and inspiring. Consistency is the key to any fitness program and it is so difficult to stay consistent at the gym. A good proportion of our students got bored with a traditional gym and have been enrolled in our academy for over 6 years. If you are looking to get in great shape, make sure to ask about our JKD kickboxing classes. The kickboxing aspect of our martial art teaches real self defense but can also get you stronger, faster, and more energized.
---
Are You Stressed Out?
There is no better activity to relive stress than the classes at NY Martial Arts Academy. Peace of mind is a major goal and benefit of martial arts when it is taught by knowledgeable instructors. Our instructions have a collective 365 years of martial arts experience and are willing to share their knowledge with you!
---
From 1985 till the today we have made a decision to teach the best martial art in the world. While other martial arts schools have jumped on the hottest trends in an effort to make a buck, NY Martial Arts Academy has taught the same art since...
---
Testimonials:
Sifu Dino Orfanos is an experienced martial art instructor that dedicates himself to perserving and perpetuating the art of Jeet Kune Do. I highly recommend and consider his academy as a source for the authentic teachings of Jun Fan Jeet Kune Do.

- Ted Wong (Bruce Lee's Training Partner, Sparring Partner, & Friend)
With over 20 years experience in Jeet Kune Do, I consider Dino Orfanos to be one of the finest instructors of Bruce Lee's art and philosophy. The epitome of professionalism, Dino is a knowledgeable, skilled and passionate teacher who has made it his mission to teach the totality of JKD while remaining true to the original spirit and vision with which Bruce Lee felt his art should be perpetuated. In addition to his expertise in Jeet Kune Do, Dino is also a certified Full Instructor in the Filipino Martial Arts of Kali and Escrima. I am honored to not only have Dino as an official representative for my organization, but also as a close personal friend.

- Chris Kent (Co-Founder of Bruce Lee Educational Foundation & author of four of the highest rated books on JKD)
If you are interested in learning more about our programs and begin your journey, fill out our contact form or call us at (347) 721-3288 . We will be happy to assist you in determining if this is a good fit. If it is not a good fit, we will do our best to point you in the right direction. You have nothing to lose and our proven systems may just change your life!