Corporate Martial Arts Training Memberships in New York City
---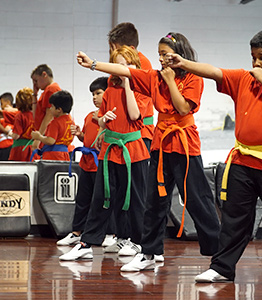 Offering corporate memberships to organizations who are looking to provide perks to employees.
Employees will have a solid fitness program that they'll want to stick with because it's more engaging and fun then a health club.
Benefits Include:
Insurance premiums paid by employers is lowered when employees are in a fitness program (benefit to employees is cost savings).
Healthy employees use fewer sick days.
Employees enrolled in a company wellness program can reduce healthcare expenditures and absenteeism costs by 25 to 30 percent.
Employees who are medically high risk generate medical-claim costs that are higher and utilize more health care.
Improved health means employers can reduce the use of health plans, which lowers the cost of health-insurance premiums, adding to company profits.
Did You Know?
Company wellness programs have a proven ROI. According to the Wellness Council of America, a $1 investment in a wellness programs saves $3 in healthcare costs. Why should you choose NY Martial Arts Academy as your company's wellness program? The simple answer is, our retention is second to none. We keep our members an average of 3.65 years. Most people who join a gym go for a few months and then stop. Give your employees a fighting chance at sticking with a program that helps students become fit, focused, and confident.
---
If you are interested in learning more about our corporate wellness programs, fill out our contact form or call us at (877) TRUE-JKD. We will be happy to assist you in determining if this is a good fit. If it is not a good fit, we will do our best to point you in the right direction. You have nothing to lose and our proven systems may just change your employees' lives!