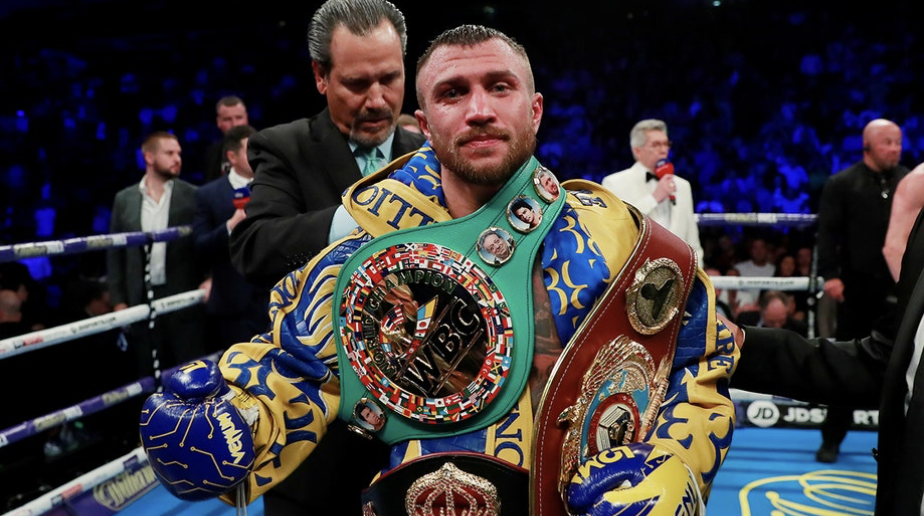 The boxing world is filled with an immense amount of talented and highly skilled fighters, each with their own individual style and strength. Fans gather from all over the world to watch their favorite fighter—based on their life story, fighting style, record, and personality in and out of the boxing ring. While boxing has many of its all-time greats like Mike Tyson, Muhammad Ali, and Floyd Mayweather, there are many great fighters in the present who draw a lot of attention each time they get in the ring.
Here, we've compiled a list of some of the best boxers in today's boxing world—in no particular order.
Terrence Crawford
Crawford has 38 wins, 29 of which have been victorious via knockout, and remains undefeated in his professional career. He's held multiple world championship titles and is the first male boxer to hold all four major titles in boxing simultaneously, from WBA to WBC, IBF, and WBO. While he is known as a southpaw, he has a reputation for switching stances in his fights and being a great counter hitter. Crawford is often lauded for his high fight IQ and his impressive ability to quickly read his opponents and adapt to their style, breaking them down throughout the fight. Crawford may be one of the more underrated fighters on this list, but his style and skill is something to look out for next time he is set to fight. His last fight was at the end of 2021 on November 21 where he retained the WBO championship title against Shawn Porter and his next fight is yet to be officially announced.
Canelo Alvarez
Alvarez has a record of 57 wins and 1 loss in his professional career, with 39 of those wins obtained via knockout. He is the first boxer in history to become the undisputed champion at super middleweight and has held world championship belts in multiple weight classes. Canelo has a strong chin, but he has a strong ability to evade shots, counterpunch, and take advantage of specific feints and angles. Canelo is a great boxer for any fighter to watch and take inspiration from. Check out his next fight, scheduled for May 7, 2022 against Dmitry Bivol for the WBA super light heavyweight title.
Tyson Fury
This undefeated heavyweight is currently a two time world champion with a record of 31 wins, 22 of them earned via knockout. The 6'9 boxer is currently one of the tallest heavyweights and has an 85 inch reach on his opponents. Fury has some great attributes, one of which being how difficult it is to hit him because of his footwork and head movement.
In addition to being an excellent fighter in the ring, one of fans' favorite things about Fury is his ability to be completely honest about some of his struggles, especially involving his mental health. He has overcome those times by sharing the lessons he's learned, in hopes of helping others in the same situation. Currently Fury is slated to fight Dillian Whyte toward the end of April to defend the WBC and The Ring heavyweight titles.
Vasyl Lomachenko
Lomachenko has a professional record of 16-2 and is the first boxer with less than 12 professional fights to retain a world championship in three weight classes. He has an amateur record of 396 wins and 1 loss, a number that seems almost unbelievable for someone at the age of 34. Lomachenko has an interesting fighting style and is known for being a right-handed southpaw, meaning he actually fights with his strong side forward in order to generate more power in his punches—similar to other boxing greats like Mike Tyson who also fights with his strong side forward. His most recent fight was at Madison Square Garden in New York City on December 11, 2021 for the vacant WBO Inter-Continental lightweight title against Richard Commey. It is unclear when Lomachenko will fight next as he is currently in Ukraine fighting for his country in the ongoing tension between Russia and Ukraine.
Oleksandr Usyk
Usyk is 19-0 in his professional career with 13 knockouts and an amateur record of 335-15. Not to mention, he is also the fourth male boxer to simultaneously hold a belt in WBA, WBC, IBF and WBO. Usyk is known for putting a lot of pressure on his opponents in his fights and having a ton of power in his right hand—he fights southpaw, just as he taught Lomachenko to do when he was his trainer. He most recently scored a big victory when he defeated Anthony Joshua and became the third boxer in history to win world titles in cruiserweight and heavyweight. The rematch between the boxers is rumored to be in negotiations at the moment but a date and venue has not yet been set..