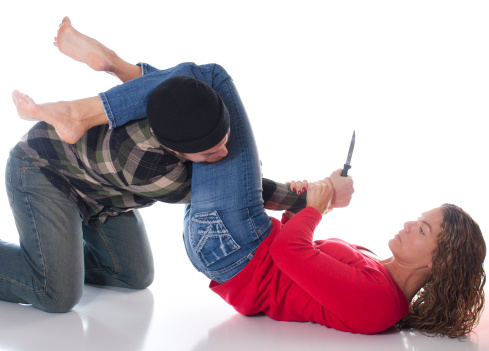 No one deserves to be assaulted. No one wants to be assaulted. But unfortunately, as anyone who reads the news can attest, the frequency of unmitigated violence is too high to ignore. Whether we want to recognize it or not, many of us will be targeted by an assailant at some point in our lives, and we will almost never see it coming. For that reason, more and more Americans are turning to self defense training to gain the skills necessary to thwart an unexpected attack. Self defense training empowers individuals with not only physical strength, but also awareness, assertiveness, and verbal confrontation skills, as well as safety strategies and physical techniques that help them successfully escape and resist violent attacks.
While there are no guarantees when it comes to protecting oneself from harm, self defense training increases preparedness and gives individuals the tools necessary to quickly make decisions that protect them from harm. There is no one specific type of self defense training, so individuals are encouraged to choose a discipline that suits their interests, philosophies, and physicality. Additionally, self defense isn't just for those who are in impeccable shape, so individuals at every skill level and stage of life are encouraged to seek out a training style meets their unique needs.
Whether you want to begin the journey toward mastering one of the martial arts, such as Jeet Kune Do, or you just want to learn some basic techniques that will give you the confidence to defend yourself in an the event of attack, self defense training is a valuable experience that can give you a lifetime of protection and peace of mind. If you live in the New York City area and you're interested in self defense training, contact the experienced instructors at NY Martial Arts Academy to find the best program for you. Take the first steps toward protection today!