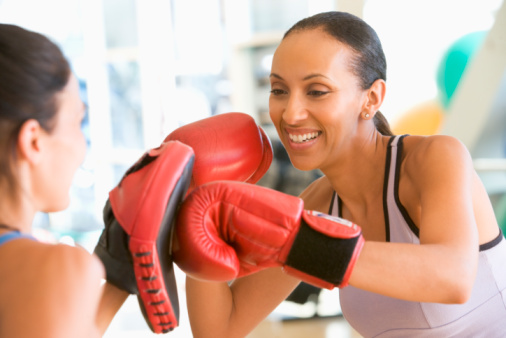 If you've tried traditional workout methods, you've probably discovered that they can be tedious and it can take time to see results. By taking boxing classes you can stay engaged and learn valuable self-defense techniques, while also seeing amazing improvements in your fitness level. According to Fitness Magazine, six months of boxing training can change your physique more than 10 years of gym workouts. While there are many variables in determining how quickly you might see results, the fact remains that boxing classes can provide an amazing workout.
Boxing is not only an extremely effective method for improving the cardiovascular system, but it builds a number of core muscle groups. Here is a breakdown of which muscles boxing training will improve the most, and what changes you can start to expect.
Arms
Boxing focuses a lot on arm movements. During boxing training you'll be working your triceps, deltoids, and biceps simultaneously while throwing different kinds of punches, such as the jab and cross or hook.
Shoulders
Your shoulder will be worked intensely and, in the beginning, this is where you'll feel the most burn. The gloves alone can weight up to a pound, and while sparring or working the bag you will be constantly moving your arms. Throwing punches will work the front and middle deltoids, while the rear deltoids benefit more from retracting punches.
Back
Besides the deltoids, the muscles that become most developed on a boxer's body are the teres major of the back. This is because they are primarily responsible for the movement required to retract a punch.
Core
One of the first things you'll learn from taking a boxing class is that the strength of a punch doesn't come from the arms alone. An effective punch utilizes the coordination of the entire body, including the legs and abdomen.
Stay in shape and learn effective self-defense from New York's premier MMA instructors at the New York Martial Arts Academy. Since 1985, over 4,500 students have benefited from our group lessons, personal instruction, and expert training. Contact us today and learn how you can improve your mind, body, and discipline with our award-winning boxing classes.