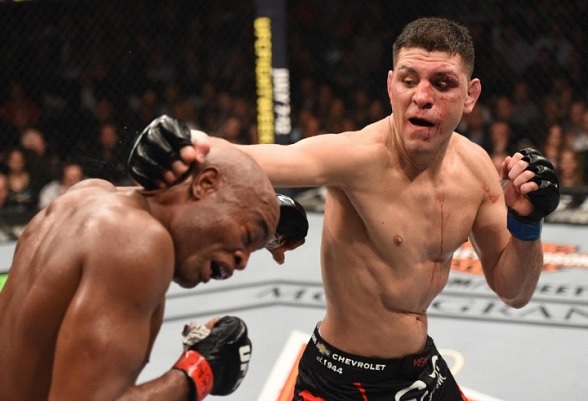 One of the UFC's most legendary and respected fighters made a very long-awaited return to the octagon at UFC 266 for a rematch with Robbie Lawler that was 17 years in the making and many couldn't even believe it was really happening.
After such a long hiatus from fighting, many fighters, commentators, and fans weighed in on their thoughts of Nick's performance that night and their feelings on a TKO decision via retirement just 44 seconds into the third round. Prior to that point both fighters exchanged punches for 5 minutes straight in both of the first two rounds, but Lawler was better prepared and got the win. Still, Nick did well considering a very long hiatus and only training for the fight for about six weeks.
Going forward, it's completely possible that Nick can perform much better next time should he choose to fight again in the near future after shaking off some ring rust and with a much better and more prepared training camp.
However, his talent and legend were still present that night and there's a lot to learn from the Stockton bad boy's fighting techniques and skill. The former welterweight champion in Strikeforce, WEC, and IFC has always had a unique fighting style and some of his attributes fit perfectly with the technique and philosophy of Jeet Kune Do.
If you'd like to become a better martial artist, here are some great qualities that you can learn from watching Nick Diaz fight-
Being a well-rounded fighter
These days in the UFC, it's easier to find fighters who have a wider skillset, but even so, you'll still find many that rely primarily on one tool over others, like Derek Brunson who is known for wrestling or fighters that rely on their kickboxing, like Israel Adesanya. For these pro fighters, they have found what they like and what works best for them in winning fights, and everyone, whether they just train in martial arts or compete have their own preference and there's nothing necessarily wrong with that. However, at the height of his career, Nick was just as adept in his striking as he was with being a black belt in Jiu-Jitsu during a time in the UFC when a lot of the matchups were the typical striker vs wrestler-types of fights. Out of 26 of Nick's wins, 13 of them were by knockout and 8 by submission, just to give a glimpse into his versatility. At the height of his career, being so versatile was a concept considered a little more subversive and gave Nick yet another trait to make him stand out. This mentality fits in perfectly with JKD, because you never really know what your opponent may be capable of in a self-defense situation, which is why it's so important to learn punching, kicking, trapping, grappling, and weapon that is taught at the school. In his most recent fight at UFC 266, we didn't get to see any of Nick's grappling skills, but he put on a great fight and gave out a lot of volume in punches to his opponent Robbie Lawler.
Foul tactics
When you think of both Nick and his brother Nate, one of the first things that probably comes to mind is the Stockton Slap, a move first made famous by big brother Nick that's meant to be equal parts disrespectful as much as it is a strategy to make their opponent lose their composure. In pro fighting, slapping is allowed, so maybe foul tactics isn't the best word to describe the technique, but it definitely applies to adapting in the moment and using unique strategies toward winning a fight and the same mentality applies in JKD which is intended for self-defense in the street. In a street fight, anything goes, so you have to be prepared for whatever your opponent throws at you and keep your focus in order to get out of danger. You also have to be willing to get creative and do whatever it takes to get home safely. Similar moves, like the slapping hook, definitely existed beforehand especially in boxing, but many never heard of it until they saw Nick using it. His adaptability and creativity have definitely been a factor in his highlight reel of wins over the course of his career.
Interception and offense as defense
Another component of Nick's style that he is known for are his constant flurries of punches throughout fights that make it hard for his opponents to react to because of the constant volume being thrown. In his first fight back after an almost 7-year layoff, this trait was still well evident, with Diaz throwing over 183 punches in the first round alone. Former UFC champion and commentator, Daniel Cormier, noted during the fight, that "a lot of Diaz's defense is rooted just in his offense, he doesn't stop coming so he doesn't leave that many openings for you.," which in many ways ties perfectly into JKD and it's focus on interception. Especially if you are defending yourself in real life, you definitely do not want to be passive or take on unnecessary damage by blocking punches, especially without gloves, so being active in order to get out of danger is a good way to get to safety.
Strong side forward
Many people may not realize this, but Nick is actually a righty southpaw, which gives him the advantage of having his strong side forward when he fights. JKD delineates from other combat sports and martial arts who generally stick to the traditional rules of orthodox and southpaw stances, however, even though a strong side forward stance is still considered uncommon, there are many famous fighters who fight that way, like Mike Tyson and Lomachenko. Nick Diaz is no different, and he has been known to have a powerful hook with knockout power. Having your strong side forward gives you a better hook, jab, and lead uppercut, and can fool many opponents, although Nick has always been known to have unorthodox and unique styles in his fighting that has been part in making him the MMA legend that he is.