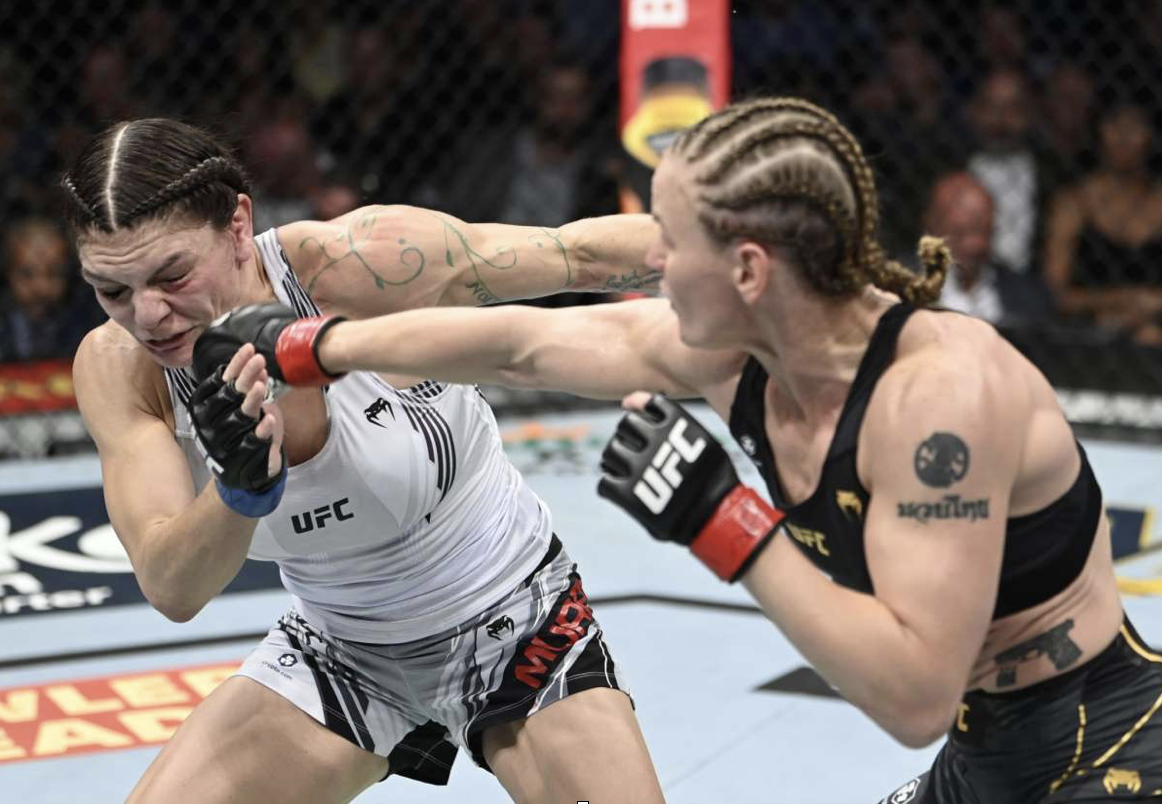 The women's division in the UFC has grown tremendously since women first started fighting in the organization in 2013. Since then, there have been many talented fighters to grace the octagon, from Ronda Rousey to up and coming fighters like Casey O'Neill. Many of these women have made history in the organization and the women's division only continues to expand. While every fighter has something to offer, there are some women who are one-of-a-kind fighters.
Here are some of the best female fighters in the UFC right now.
Valentina Shevchenko
Valentina is currently on an eight fight winning streak and holds the record for the most consecutive wins in the women's flyweight division. Not to mention so holds the record for most consecutive title defenses. Her technical skill and lifelong dedication to martial arts has truly shown over the course of her career—from her impressive wins to her record breaking accomplishments. In addition to being a UFC champion, she is also a multi-time world champion in kickboxing, taekwondo, and muay thai. Shevchenko is pound-for-pound one of the best female fighters in the entire women's division. From knockouts to submissions, her resume speaks for itself. After defending her title by defeating Lauren Murphy via TKO in the 4th round at UFC 266 on September 2021, Shevchenko is speculated to face Taila Santos on June 11 at UFC 275.
Julianna Pena
Most recently, Julianna Pena pulled off one of the biggest upsets in UFC history. She was quickly elevated to the forefront of the division after submitting Amanda Nunes in the second round of the bantamweight championship title fight at UFC 269 on December 11, 2021. As the current champ, Pena has had some impressive wins over the course of her career. Her rear naked chokehold over Sara McCann at UFC 257 in January 2021 and a decision win over UFC veteran Cat Zingano at UFC 200 in 2016 are just a few impressive moments.
Pena and Amanda Nunes are currently slated to be the coaches on the 30th season of The Ultimate Fighter, airing on May 3, 2022. Once the season ends, Pena will have the chance to solidify her legacy by defending the belt in a rematch against Nunes.
Amanda Nunes
Amanda has been an unstoppable force since her debut in the UFC. Despite causing an upset when she recently lost one of her belts to Julianna Pena at UFC 269, she is still one of the most dangerous fighters in the organization. Amanda was the first woman to hold a championship belt in two different weight classes and was undefeated for seven years while simultaneously defending a title in the bantamweight and featherweight divisions.
In addition to her already impressive resume from her time in Strikeforce and Invicta, she gained a new level of star power in the UFC when she knocked out Ronda Rousey in the first round at UFC 207 back in December 2016. Since then, her resume has been filled with first round finishes of tough opponents like Cris Cyborg and Holly Holm. Nunes' next fight will be a rematch with Julianna Pena to see if she can regain the bantamweight belt that is slated for the summer of 2022.
Rose Namajunas
Rose holds the championship belt for the women's strawweight division and most recently defended the belt at UFC 268 in a rematch with Zhang Weili—consisting of five rounds that ended in a split decision victory. Namajunas initially earned the belt via TKO vs. Joanna Jedrzeiczyk at UFC 217 before losing it to Jessica Andrade six months later at UFC 237.
As a martial artist who started her training at the age of 5, Namajunas is known for being highly technical in her moves. She's won a lot of her fights by submission, but has elevated her craft with versatility—knockouts. Take for example the first time she regained the belt from Zhang via TKO from a pendulum hook kick to the head in the first round. As of now, it is most likely that Carla Esparza will fight Namajunas in a long awaited rematch for the next strawweight title fight in 2022.
Zhang Weili
As a martial artist who made her UFC debut in 2018, Zhang Weili quickly made a name for herself when she earned the title shot against Jessica Andrade for the strawweight division in 2019. Weili is highly technical and has powerful striking and solid groundwork, making it difficult to find a less dangerous way to approach the fighter in the octagon.
Weili was on a five fight winning streak against tough opponents like Andrade and Jedrzejczyk, before facing Namajunas where she faced her first loss in her professional career since 2013. Weili is currently on a two fight losing streak and it's not 100% certain who she'll fight next. Regardless, there's no doubt she will redeem herself and continue making history in the UFC.
Learn more about women's self defense classes at NYMAA.