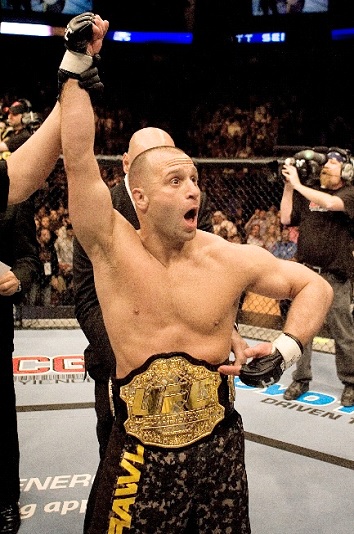 Throughout the three decades of the UFC, there have been tons of historical moments and unforgettable upsets that shocked fight fans everywhere. These days, if you ask anyone what their favorites were, you'll probably get a slightly different list from each person. Some fighters just become seemingly unbeatable legends making it feel impossible for anyone to come in the cage and defeat them, but even the greatest mixed martial artists have had a night where their opponent pulled an upset and turned the fight world upside down. Here are some of the biggest UFC upsets that deserve a moment of recognition.
The particular fights chosen for this list are presented in order from most recent, but they are all impressive moments regardless of how long ago they were. Here are just five of some of the biggest UFC upsets-
Amanda Nunes vs Julianna Pena
UFC 269
December 11, 2021
Before this fight, Amanda Nunes held a belt in both the bantamweight and featherweight division and had not lost a fight in six years. Pena really got a bad rap leading up to this fight and was thought of as just another one of Nunes' victims who would get knocked out inside of the first two rounds. Pena had gone on for years about how Nunes was ducking her for this fight and that she truly believed she could beat her. One of her main reasons that she often harped on was that she had beat Cat Zingano in 2015, who, before Pena, was the last person to ever beat Nunes in a fight in 2014. Pena was a big underdog in this fight and aside from a few believers, not many people were rooting for her. In the first round of the fight, it looked just like any other Amanda Nunes fight, with Pena getting hit with shots and getting dropped from Amanda's striking. Pena took the fight to the ground and while Nunes was able to get free, she did look like she was surprised at Pena's grappling skill. What happened after this round is just as much a mystery to any fight fan because, after the first round, Nunes was not fatigued, she was not hurt, and she undoubtedly was winning thus far. For whatever reason, in the second round, Amanda started taking a lot of shots from Pena, and for a while, it was a straight-up back and forth of punching, with Amanda taking a lot of damage. Pena landed some clean shots and as the fight went to the ground, Pena put her in a choke and Nunes tapped. Critics later spoke out that the hooks were not in on the choke, but Pena explained it was more of a neck crank and that it was, in fact, a tight choke giving Amanda no choice but to tap. Despite critics' opinions on what happened, Pena did win the fight and pulled the upset. They are slated to have a rematch, so perhaps Pena will get another chance to prove her haters wrong. Regardless, it was certainly one of the more shocking moments in the UFC as of late.
Nate Diaz vs Conor McGregor 1
UFC 196
March 5, 2016
When people make their case for UFC biggest upsets these days, somehow this fight tends to get left out of the conversation. Still, everything about this fight was a huge upset and really, the start of the money fights since Diaz is just as natural at trash-talking as Conor is. Newer fans can't fully appreciate the extent of this upset. Still, prior to this fight, Diaz had already pulled off a big upset by defeating Michael Johnson, which honestly, no one thought he would be able to do because of Johnson's incredible striking and his no-nonsense demeanor. Not everyone remembers that fight, but you can guarantee everyone remembers what happened after when Joe Rogan put the mic in front of Nate and he made one of the most famous call-outs in UFC history. Unfortunately, this blog doesn't endorse profanity, so you'll have to YouTube it for yourself if you honestly aren't familiar. Initially Nate didn't get the matchup and Conor was set to fight Rafael Dos Anjos, but he pulled out due to a broken foot weeks before the fight, and eventually Nate was offered the fight on a little less than two weeks notice. At this time Conor was undefeated and unstoppable and it was the height of McGregor fan frenzy. That, plus the fact that Nate was getting the fight on such short notice and taking on someone like Conor McGregor, made it clear that nobody thought he could beat him. Nate got booed on the walkouts of the fight as he came out to the audience in Las Vegas. This fight was a war from the beginning as both fighters traded shots with each other. Conor won the first round, but the second was a bit of a back and forth with Nate doing some damage and Conor returning shots. It started to seem as if Conor might win, as Nate was taking a lot of impact and bleeding from the top of his right eye, but Nate got himself together and started returning fire, hurting Conor badly and wearing him out, leading Conor to shoot for a takedown, a dangerous decision against a Gracie Jiu-Jitsu black belt. Nate was able to get Conor in a rear-naked chokehold and submit him, resulting in one of the craziest upsets of the time and a first-time loss for Conor McGregor in his whole UFC career. The cult following for Nate really grew after this fight and to this day fans are hoping for a trilogy fight between these two.
Holly Holm vs. Ronda Rousey
UFC 193
November 15, 2015
Prior to this fight, Ronda Rousey was on a 12-fight winning streak and was known for submitting many of her opponents just seconds into the first round. Newer UFC fans may not remember, but at that time, every opponent Ronda was handed was looked at as just the next victim, so when Holly Holm was set to fight her, the odds were heavily stacked against her. Holm is a multiple-time world champion in boxing, but she had only fought twice in the UFC in 2015. When it came to fighting Ronda, many opponents would make the mistake of playing her game and trying to grapple with her, but Holm was very smart and kept the fight off the ground, using her boxing and kickboxing skills. In Ronda's last fight, she was able to knock out Bethe Correia who had great striking, and it was around this time that Ronda started testing out her stand-up game a little bit more. Maybe she really did want to expand her toolset or maybe she was tired of critics ridiculously calling her a "one-trick pony" for submitting many of her opponents with an armbar, but she made a mistake by trying to do that with Holm who repeatedly stunned her with some great shots before knocking her out with a head kick and punches in the second round. This fight is really one of the biggest upsets particularly when it comes to female fighters, because Holly left no room for question of her ability or in the way she scored her victory. Not only did she knock Ronda out, but she made her look like an amateur for the entire fight and ended Ronda's streak as an undefeated champion.
Chris Weidman vs. Anderson Silva
UFC 162
July 6, 2013
Anderson Silva was on a 16-fight winning streak and had not lost a single fight in the UFC when he was set to face Chris Weidman who was fairly new with 5 fights in the organization compared to Silva who was not only a seasoned vet, but a venerable champ. Anderson had knocked out his last four opponents inside of the first or second round and had defended the middleweight championship belt at least 10 times so it's not surprising that this particular bout was looked at as just another notch on Anderson's belt in his seemingly unstoppable run at the top. Weidman had some great wins so far, but it was like the newest hype train getting a title shot against a legend, so naturally the odds were stacked against Weidman. Going into the first round, Weidman did a great job of using his wrestling, and overall the first round went to Weidman. In the second round, it seemed like Anderson made a point of keeping the fight off the ground and started playing some of his usual mind games, where he puts his hands down and eggs his opponent on to hit him only to hit them back with a good shot if they aren't careful. This went on for the first couple of minutes of the second round, but Anderson got sloppy and Weidman clipped him with a clean shot that dropped Anderson and knocked him out. Obviously because Anderson was such a decorated champion, critics tried to detract from Weidman's victory by stating that Anderson just got too cocky, but it was still a great job done by Weidman and he certainly deserved any hype and praise that he got for dethroning Anderson's impressive reign and taking the belt. In the rematch, Weidman would earn victory again, much to the chagrin of beloved Anderson fans everywhere.
Matt Serra vs Georges St-Pierre
UFC 69
April 7, 2007
Many upsets have taken place in the 15 years since this fight took place, but it always has a space on the list of many, regardless. The background story here starts with Matt Serra, who was at an impasse in his UFC career with a record of 4-4. He joined season 4 of The Ultimate Fighter: The Comeback season, where he and many other fighters who had already fought in the UFC were given a shot at redemption in their careers by competing against each other for a renewed contract and a title shot with the current champion in either the middleweight or welterweight division. After defeating Chris Lytle in the finals by split decision, his next move was a title shot against Georges St-Pierre, an outstanding martial artist who, at the time had only suffered one loss in his UFC career in 2004 and was on a six fight winning streak. To say that no one really thought Serra was going to beat GSP, let alone knock him out is an understatement that can probably only be fully appreciate by fans who watched this all unfold in real time. Leading into the fight, GSP was a -1100 favorite and had a six inch reach on Serra. As the first round unfolded GSP hit Matt with a head kick, but Matt kept going forward in the round and landed a clean shot that dropped GSP. Seeing the damage he did, Matt continued pressing him and hitting him with shots, dropping him a few more times until GSP wasn't able to continue and the ref called the fight. Fans were surprised to see a great like GSP have a weakness in his game exposed and Matt Serra shocked UFC fans everywhere by taking the welterweight championship belt from a skilled fighter like GSP. GSP was able to redeem himself in the rematch, but that night has resonated with UFC fans to this day.